---
HIGHLIGHTS
---
---
4 May 2021 – Tayyib Quality Meat promo video.
---
---
14 April 2021 – Recently Tabung Haji officials visited our catering company food preparation center and packaging in Makkah, Saudi Arabia.
---
---
11 April 2021 – Our Vic Valley expention and up grading are completed. We even put our own box packages to cut cost and our plate freezers expention is also completed with this new expention we can deep freeze 700 boxes of trimmings especially for our MacDonalds orders.
---
---
8 April 2021 – Our Brunswick small goods processing for Australian and overseas market.
---
---
22 March 2021 – Nusantara meat sedang menyediakan pesanan daging-daging lembu yang sudah disembelih untuk kegunaan pada bulan Ramadhan pada bulan hadapan.
---
---
19 March 2021 – Melihat daging tempatan yang telah disembelih dan membuat aging, lembu dari Risda dari kajian yang dilakukan oleh Nusantara Meat daging-daging lepas aging kualitinya baik.
Insyallah akan bincang dengan Risda cara ke hadapan, selain dari itu telah melihat daging-daging yang di bungkus untuk OEM semuanya berjalan dengan baik jaga kebersihan halal dan jaga kualiti.
---
---
FLAVORISTA KARI IKAN
FLAVORISTA KARI DAGING
FLAVORISTA MASAK KURMA
FLAVORISTA MEE GORENG
FLAVORISTA NASI GORENG
5 MARCH 2021 – FLAVORISTA TAMPIL DENGAN PRODUK-PRODUK BARU YANG AKAN DI PASARKAN DI MALAYSIA. JUST A SNAP IN COOKING, TRY IT YOU WILL LOVE IT !!
---
---
---
---
Click Here :
---
---
Please Click Here :
---
---
23 Januari 2021 – The slaughter house in Somaliland with our new blast freezer and the halal certified by the Somaliland and the UAE halal government certification for export.
---
---
13 Januari 2021 – Hari ini pegawai-pegawai Risda, Felcra dan supermarket AEON membuat lawatan ke NUSANTARA MEAT BERHAD di Mukim Batu Kuala Lumpur untuk melihat sendiri kemudahan yang ada untuk DEBONING di Nusantara dan kapasiti yang boleh di sediakan untuk keperluan mereka. Mereka amat kagom dengan facilities yang ada di Nusantara.
BERSIH,HALAL,BERKUALITI
---
---
12 Januari 2021 – These are the 3 products which we will start supply to COLES halal store in Victoria from March than we will supply to 600 COLES store in Australia nationwide.
We are waiting presentation to ALDI because of Covid19 we can only do it in March.
---
---
28 Disember 2020 – Rack rack on the wall, what's the best seasoning among all? 👸
It's #Flavorista!🍃 Grab yours now at #KKSUPERMART to make your special plates easy as 1-2-3.🍗🥘 With 4 variety of your favourite flavor at only RM4.90 each!
#BlackPepper #AglioOlio #BBQ #SaltedEgg
---
---
---
---
23 Disember 2020 – For sure Halal, Healthty, Consumerble Clean and trustworthy buy your meat here.
---
---
---
---
Batchelor abattoir celebrates first 12 months of production
The Batchelor abattoir has completed its last day of processing for 2020, and has entered a shut down period for the wet season.
The abattoir was mothballed back in 2003, but has now been going for 12 months after being brought back to life by the company Central Agri Group.
Speaking to ABC Rural, the group's general manager Johnnie Dechiera, said the Batchelor abattoir processed around 14,000 head of cattle and 6,000 head of buffalo this year.
He said pending on the wet season, the abattoir would resume processing in February.
"The last 12 months hasn't been without its challenges, but we've learnt a lot and achieved some significant milestones," he said.
"We're going to work hard to continue establishing further market access for our beef and buffalo products next year, and maintain our 150 to 160 head [processed] per day."
https://www.abc.net.au/radio/programs/nt-country-hour/wet-season-shut-down-for-batchelor-meatworks-nt/12998922
---
---
10 Disember 2020 – Get a Flavorista product thru Shopee and Lazada platform.
---
---
6 Disember 2020 – Flavourista will introduce new products for its Just a Snap cooking ingredients and it's beverage products in the market soon.
The beverage will be arabisco coffee one in one, coffee 2 in 1 and our original Teh Tarik, try it,it's halal , clean, consumable and trustworthy.
---
---
25 November 2020 – Business meeting for export market with China companies organised by HDC and Matrade.
Flavorista was selected as one of the seller.
Tomorrow will be virtual meeting with two potential importer from China.
---
---
21 November 2020 – Promoting our products by Flavorista in supermarkets the response was overwhelming its Halal Clean Consumable and affordable try it . Cook with just a snap.
---
---
12 November 2020 – Our Brunswick small goods factory in Melbourne is supplying to Nippon Steel Kitchen Japan with Tongue, Tail, Cheek, Thick and Thin Skirt Offals.
We are also trying to win to supply them Angus if we can supply this it is beautiful.
We start using our Skin Pack machines for this supply as our skin pack are yielding up to 65 days as fresh chilled meat.
---
---
12 November 2020 – Flavorista Big Sale "Special Offer"  for every purchase of Flavorista products at Aeon and Aeon MaxValu Prime.  Hurry up get it now.
---
---
11 November 2020 – Flavorista Premium Homestyle Beef Burger dan Wagyu Beef Burger boleh di dapati di Evo Mall, Bandar Baru Bangi.. Jom warga Bangi "Kita Try".
---
---
9 November 2020 –
Rakaman dari RTM bagi rancangan Mahir Hidup TV1
Memberi liputan produk dan pembangunan Flavorista dalam industri makanan Malaysia.
---
---
7 November 2020 –  Nusantara Meat Berhad and Flavorista goes    Online to facilitate customers to purchase their meat requirements and will deliver to them with a minimum charge for delivery.
---
---
4 November 2020 – Flavorista Promo Video
---
---
3 November 2020 – Nusantara Meat Berhad have combo sales pack for customers. It started to attract customers with this package. Order your combo packs it will be delivered to you.
Nusantara Meat Berhad under the brand Flavorista try it enjoy Quality,Clean,Halal and Consumable products. Get it you will love it.
---
---
2 November 2020 – Nusantara Meat Berhad introduce Shabu-shabu meat  a part from minced meat and also lamb for local market customer.
---
---
KOMEN DAN REVIEW
1 November 2020 – "Rasa nya enak. Dan Uncle rasa, lebih enak dari Slasih the second time Uncle makan. 
Ketebalan anggaran 1cm amat memadai, tak lebih tak kurang, bak kata omputih just nice. Boleh makan lebih. 😁😁😁
Uncle layan perap bbq lebih kerana pada Uncle rasa nya lebih, perisa blackpepper sedap juga tapi boleh ditambah perisa bagi lebih meletoppp.
Uncle jarang makan kambing tanpa sos cili (maaf uncle hantu sos), tapi yang ni Uncle berjaya makan almost separuh tanpa sos cili.
Kena part favourite yg lemak tu, fuhhhh rasa dia deep lagi. Sehingga hampir nak gaduh dengan anaknya pasal anaknya hantu lemak.
Dengan ini Uncle beri 4.5 🌟 daripada 5.
terima kasih pada my niece nya atas sudi memberi Uncle sekeluarga merasa kenikmatannya."
"Tried for the first time last night, I was so delighted and happy !

I opted to slow-cooked it to perfection. Lamb was juicy, succulent, and flavorful. The cuts of lamb were naturally tender, so I didnt even need to do much to them to create a stellar main dish.

The marination of lamb was perfect ! What a great way to infuse extra flavor into the meat , which was correctly seasoned with bold spices counterbalance lamb's natural gamey flavors. I didnt need to follow any recipe, either. And the best part is most herbs and spices work well with lamb, so we can also have some fun and play around with mixing together our own flavorful blend !

Another point to share, the best way to ensure the lamb stays juicy and moist is to keep it from reaching those well-done temperatures while cooking.

Also absolutely crucial to let meat rest after cooking. As when meat cooks, the proteins and fibers inside the meat seize up, release moisture, and become firm.
So during the resting time, those fibers can relax, reabsorbing the moisture they expelled during the cooking process. If we cut into our lamb straight away, those juices would spill out

I also opted for complementary flavors that made the lamb's pastoral flavour more palatable ( and it's also a good way to cover up accidentally overcooked meat ).

These sauces have many variations that can be a good fit for the lamb.

We can also get inspired by global cuisine when choosing a sauce for lamb. I opted for chimichurri from Argentina, Mediterranean mint sauce, and Middle Eastern yogurt-based Garlic Sauce.

No matter what you choose, just make sure it matches the flavor profile of the spices used during the marinade process.

Thank you so much Nusantara Meat and Flavorista for excellence !
Congratulations ! My family and I are excited to explore more of your products !"

Nas
Ministry of Finance

---
---

Succulent and tender , one of the best Ive ever tasted.
The lambs in Australia are raised in large enclosures, normally slaughtered around the age of 12 months. This means that the meat offers a richer taste with a more intense marbling.
Will definitely making my daughters to cook more for me.
Congratulations Nusantara Meat and Flavorista !
Datuk Dr Zaini
Tokoh Patologi Negara
---
---
30 October 2020 – Nusantara Meat Berhad products brand under FLAVOURISTA getting reviews and comments from customers. We need feed back to improve as we are producing Quality, Clean, Consumable, Halal meat products.
We are educating the public to buy products which will not harm them where some products the meat content is less than 10% the manufacturers put in lots of fillers which is harmful to human health.
"Nana just cooked she says sedap"
"Bought at my neighbor new freshmart"
"Very nice"
---
---
29 October 2020 – Our small goods factory in Brunswick Melbourne Australia is producing shabu shabu cuts for Dairy Farm Singapore.
---
---
29 October 2020 – Our Rum Jungle Abattoir now listed for Vietnam. We will start exporting our products from Rum Jungle Northern Territory Australia soon.
---
---
29 October 2020 – Feedback daripada pengguna yang membeli Wagyu Beef Burger berpuas hati dengan produk Flavorista " Wagyu Chef's Choice" yang sudah mula berada di pasaraya terkemuka.
---
---
28 October 2020 – Slaughtering goats at our Tayyib Burao Abattoir, Somaliland Africa. The animals slaughter is for the Middle East Market,(Dubai and Oman),our abattoir can also slaughter cattle, sheep and camel which is approve by the government of Somaliland.
We already obtained Halal certification from Somaliland Government, We also have Halal certification from Dubai and Oman. We are now waiting for approval from Malaysian and Indonesian Authorities for us to export our meat products into this markets.
Both countries are looking for food security and also for a better price comparing meat products from other countries which they are being imported into Malaysia and Indonesia,  This will be another alternative for the people of both countries to get meat for their protein requirements at affordable prices. The products is from a Muslim Country, Insyallah we hope to introduce our meat products in both countries soon. The abattoir is Malaysian Muslim owned.
---
---
27 October 2020 – Flavourista doing its stock check in the factory. We are introducing a new business plan. We will look at the market demand of our products for consumer retail shops and market, mini markets,super markets and also our bulk buyers.
We are producing Quality. Halal, Clean and Consumerble product.
---
---
27 October 2020 – Central Agri Group Australia is working with Cold Storage Singapore to produce cut meat and small goods under their brand DAIRY FARM for Singapore market.
---
---
25 October 2020 – Tayyib Burau Abattoir Somaliland Africa operations is running well after the repair on the cold room facilities.
---
---
---
---
24 October 2020 – We started slaughtering goats yesterday for export in our Africa Somaliland Burau Abattoir.
The slaughtering started after our cold room facilities which had some problems were fully functioning again.
---
---
22 October 2020 – The new reefer for our cold room facilities in Taiyob Burau Somaliland Abattoir being commissioned. This will assist our productivity to deep freeze the goats which we are slaughtering for export Insyallah.
---
---
20 October 2020 – Our Brunswick small goods factory Melbourne Australia is packing skin pack and sleeve pack for Dairy Farm Singapore. This product will be marketed in Singapore and Indonesia.
---
---
18 October 2020 – A new menu @Mr Biryani KL
---
---
17 October 2020 – when it come to Rum Jungle Beef Burgers we keep it simple. Our burgers are produced using the finest Australian beef from 100% free range cattle which are rare and raised on stunning landscapes of the Northern Territory in a natural grassland environment, allowing us to produce healthy, tasty, free range beef burgers filled with flavour.
Get your Rum Jungle Burgers from Nusantara Meat Berhad, Kuala Lumpur, Malaysia.
---
---

16 October 2020 – More products by Nusantara Meat Berhad under Flavorista Brand will be available at supermarkets or call for home delivery.
We are in Selected premium outlet for Aeon Max Valu Prime and Village Grocer.
---
---
15 October 2020 – Nusantara Meat Berhad a new product Flavorista "Wagyu Chef's Choice Beef Burger".
---
---
 Nnt
14 October 2020 – Nusantara Meat Berhad Malaysia today introduce a new product Flavorista "Wagyu Chef's Choice Beef Burger" to be marketed in supermarkets
This is a premium Halal Beef Burger which will give consumer choice. The beef burger is made using Wagyu beef only.
---
---
9 October 2020 – Rum Jungle Beef Burger and Gippsland Beef Burger now available at @teksuperstore Australia. There is a competition where customer can follow @ausfed for entry details. Customer can win 1 of 5 boxes beef burger patties. Check this out and win.
Feel Well Fed With AUSFED. All The Best.
---
---
7 October 2020 – Our Chief Operating Office in Saudi Arabia Dato Wira Sheikh Abdul Halim AlKathiri visited the council general office of Negara Brunei, our friendly nation to promote our kitchen food supply for UMRAH n HAJ to their jemaah.
---
---
7 October 2020 – Coffee Classic Flavorista being pack for a special order coffee arabica with no artificial ingredients all natural enjoy it with a reasonable price. Check the ingredients before you purchase your 3 in 1 coffee make sure it's healthy clean and consumable.
---
---
7 October 2020 – Flavorista Road Show
---
---
7 October 2020 – A new packing which was required by COSTCO outlets done by our small goods factory in Brunswick Melbourne Australia. Its in the supermarket for family pack purchases.
---
---

3 Oktober 2020 – Saya, Dato Hasbi bersama staff Flavorista mengadakan mesyuarat merubah business modal untuk kebaikan syarikat kerana selama 2 tahun business modal lama tidak boleh di guna pakai.
Stratagi baru akan di kenalkan kerena kita menghadapi bermacam macam kesulitan khususannya market penetration banyak yang kena sabotaged kerena ini perusahaan ini milik Melayu Islam.
Rantaian agihan bukan milik Melayu jadi bermacam macam masallah di hadapi walaunpun produk yang di keluar baik dan mendapat sambutan.in reality this is the problem Bumiputra Businesses we are facing sabotage by certain competitors and also outlets.
---
---
3 October 2020 – Pre launch road show for our cooking stocks. (chicken,anchovy,beef stock) mendapat sambutan yang amat baik.
Dijangka pertengahan bulan Oktober produk berkenaan akan diedarkan ke seluruh Aeon Malaysia.
*Aeon Co* – 32 outlets
*Aeon Max Valu Prime* – 10 outlets
*Aeon Big* – 22 outlets
---
---
30 September 2020 – The Hajj Consult In Malaysia visited The Diamond Fork Catering and Food Kitchen.
---
---
5 September 2020 –  Meeting with management team of Flavorista and Nusantara Meats as has been instructed by the main shareholder that our operation companies need a new business model in order for us to survive.
We need to look deep in the business model so that we can be competitive and comparable with our competitors product.
---
---
5 September 2020 –  A Restaurant in Northern Territory Australia which buy our products from our abattoir in Rum Jungle Batchelor put Rum Jungle product on their menu and our buffalo meat. This made us to feel proud and this product are halal.
---
---
29 August 2020 –  This morning we fill in the first chicken coup at our farm in Banten Farm Indonesia,the first batch of 45 thousand chicks for breeding production will be ready for selling in 35 days.
In this farm we have 12 coups and hope to fill in 540 thousand chicks by end of September Insyallah.
---
---
27 Ogos 2020 – Hari ini pertemuan bersama Datuk Seri K K iaitu pengasas KK Mart rangkaian kedai 24 Jam. Flavorista akan teruskan proses pendaftaran produk untuk masuk ke KK Super Mart hasil pertemuan ini.
---
---
18 August 2020 – Datuk Seri Tengku Adnan Tengku Mansor melawat ke kilang Flavorista di Kawasan Perindustrian Meranti.
---
---
9 August 2020 – New look of Flavourista cooking stocks will be in the market soon.
---
---
9 August 2020 – Discussion on progress Wagyu & Premium Beef Burger at Nusantara
---
---
4 August 2020 – A new variety product of Flavorista.
---
---
2 August 2020 – Our Batchelor Abattoir Rum Jungle in NT Darwin export buffaloes full carcass and 4 quarters to the Philippine and Papua on Saturday. We also export and sold locally bone in and debone buffalo meat to the local and export market. We hope to export to other markets soon.
---
---
1 August 2020 –  Penyembelihan Korban di Victoria Valley Abattoir Trafagal Victoria Australia the first 200 heads of Qurban are for a Turkish foundation MEC, we are packing in 3kg packs for export to Indonesia on Tuesday.
Then the next 250 head is for Human Appeal which is going to a cannery in Brunei to be canned for the Middle east.
---
---
31 JULY 2020 – Our Victoria Valley Abattoir Trafagal Victoria undertake today korban for Human Appeal Qurban Project. We slaughter today 200 heads and tomorrow another 200 heads. The meat will be debone pack and send to them for distributions.
---
---
27 JULY 2020 – Saya telah minta pengurusan Flavourista untuk berjumpa dengan saya dan memberi taklimat terhadap produk produk baru keluaran kilang dan respon pasaran terhadap keluaran baru dan juga taklimat terhadap pasaran keluaran semua produk yang di keluarkan.
---
---
26 JULY 2020 – A new sensation and taste of Flavorista flavor fiesta promotion.
---
---
23 July 2020 – Today across Western Australia we held in store cooking demonstrations throughout the local spud shed supermarket stores.
We would like to take this chance to thank the Spud Shed team for all their efforts into making this happen & the local community of WA for all the positive feedback regarding our free range burgers.
#freerangeburgers
#centralagrigroup
#rumjungle
#supportlocalbusinesses
---
---
21 JULY 2020 – S'lasih Padang and Asian Cuisine will be open on the 1st August on the 3rd floor Bangsar Shopping Complex (BSC Bangsar) .
---
---
20 JULY 2020 – S'lasih Padang and Asian Cuisine telah di buka di Putrajaya Persint 15. Restaurant ini menyediakan makanan Padang, makanan Melayu Malaysia dan makanan Barat, konsep yang baru untuk pelanggan menjamu selera.
---
---
18 JULY 2020 – Our RUM JUNGLE halal Beef Burger are selling well in one of Western Australia groceries Spud Shed they have 13 stores.
They have sold 3tons of RUM JUNGLE halal Beef Burgers. Very soon RUM JUNGLE Halal Beef Burgers will be sold in ALDI, COLES and WOOLWORTHS stores all over Australia. This brand is accepted by the Australian market.
---
---
10 JULY 2020 – Our Batchelor Abattoir NT is sending the first container of carcass of slaughter buffaloes to the Philippine.
---
---
3 July 2020 – Hari ini, Natrabu Putrajaya telah bertukar nama kepada D'Slasih Asian Cuisine. Dengan penjenamaan semula ini Restoran D'Slasih menawarkan pelbagai jenis variaty makanan dan minuman mengikut citarasa rakyat Malaysia. Bukan saja menawarkan masakan Padang, malah pelbagai pilihan makanan tempatan yang menjadi kesukaan pengunjung ke Restoran D'Slasih Asian Cuisine di G66, Jalan Perak P15 Presint Diplomatik, Putrajaya.
---
---
3 JULY 2020 – Rum Jungle Abattoir in NT have got the United States America clearance for buffalo meat export to the U.S.A market .This week we are sending our first container to our U.S.A buyer. Insyallah we will be sending more containers to the U.S.A market in weeks to come and we hope to be able to sell trimmings into the U.S.A market.
---
27 June 2020 –  Flavorista products now on display at major supermarkets and stores for sale. Another product for Malaysian by a Malaysian company to ease your cooking and consumer needs.
---
---


25 June 2020 – One of our subsidiary companies director was appointed as one of the advisers for food industry MOA by the Minister Of Agriculture Malaysia. Congratulation Dato Seri Irmohizam Ibrahim.
---
---
---
---
---
---


21 JUNE 2020 – Four containers of meat mill from our rendering plant RUM JUNGLE NT Australia was exported to Taiwan. This is the first shipment as we have implemented a no waste system in this abattoir.
---
---
16 June 2020 – The first dry containers of Meat and Bone Meal from Rum Jungle Rendering Export to Taiwan
---
---
8 June 2020 – Our goats in our abattoir in Somaliland being inspected and certified before we pack for export. We are exporting to Oman and soon to the other middle Eastern Countries.
---
---
3 June 2020 – Australian Meat Auditors were inspecting our meat cuts today at our Batchelor Abattoir. Austraia is very strict with the meat industry they come and check all the meat works everytime to ensure quality
---
---
1 June 2020 – First batch of 58 tons of Fetel Blood being ship out from our bachelor abattoir to Graincrop locally.  We will soon export to Taiwan once we get the Australian accreditation.
---
---
22 Mei 2020 – Antara produk keluaran Flavorista yang sudah berada di pasaran.
---
---
17 MAY 2020 – Produk Flavorista terbaharu di pasaran. Potato Flake, Corn Flour, Custard Flour, Japanese Breadcrump dan Roti canai Premix.
---
---
4 May 2020 – Our Rum Jungle Beef Patties being offer to the online customers of Ocean Tree Hong Kong together with other meat products. We were told that the response by the Hong Kong consumer is very encouraging.  We would like thank Ocean Tree for introducing our product in their on line platform.
---
---
27 APRIL 2020 – More product are coming out from our small good factory at Brunswick Melbourne as new customers demand varies. We will produce according to our customers need.
---
---
22 APRIL 2020 – Nusantara Meat through its subsidiary Kingdom Media Sdn Bhd have started online offer to customer to purchase beef and chicken using a platform meathouz.com.my customers can purchase using this platform and the purchase will be send to them. More products will be offer soon.this initiative is to get the public to purchase online and to receive the product without them going to the markets and supermarkets.
Will add more products from time to time like premium nusa burgers. nusa frankfurters, nusa meat balls etc.
---
---
21 APRIL 2020 – The first container of frozen goat carcasses left our Burau Cold Room and Tayyib abattoir Somaliland to Berbera port for first shipment to Oman. Congratulatins to all the Somaliland Staff for your achievements today after 5 years of straggling in the conditions which we never expected. This achievements is our beginning of a milestone to assist Somaliland in meat export and also to add up to our Halal meat exports to the world just like our sister company CAG in Australia. Our Business and our Ibadan FARDU KIFAYAH.
---
---
20 APRIL 2020 – New products being introduced by CAG small goods factory at Brunswick Melbourne Australia for the Australian local market and supermarket chain. This product will be introduce for export markets to its overseas customers soon. They have started exporting to Kuwait and Bahrain under the brand SULTAN. Using its own brand they exported to Korea, Hong Kong and Singapore. Its waiting for Halal Certification for the Malaysian and Indonesian market and hope to export to this markets soon.
---
---
17 APRIL 2020 – We received the halal certificate CAG Rum Jungle Meat Export today it was approved on the 15 April. We hope to export to Muslims country soon. Today we despatch our first container of buffalo meat to Korea from our NT abattoir. The halal certification also allows us to export cattle,buffalo and camel. We will look into camel meats for export to Middle East,Europe and Canada.
---
---
17 APRIL 2020 – Flavorista is marketing it's products through supermarkets and also to B2B buyers as the demand for its products surged due to the effect of the pandemic Covid19. Customers are more confident to buy their premixed ingredients for cooking rather than buying each ingredient for their cooking requirements. Flovorista is doing its best to supply the demand by its customers and hoping that this will change the cooking style of Malaysian in the future as it is clean and hassle free for the Malaysian cooking needs.it is also inexpensive.
---
---
12 April 2020 – Nusantara Meat is the supplier of all the meats for RISDA LADANGKU outlets all over Malaysia.this meats comes from CAG farms in Victoria Australia,the products which is in Risda LADANGKU outlets is as :
Australia meat:
Silverside
Topside
Rump
Knuckle
Tenderloin
Brisket
Short ribs
Neck bone
---
---
12 APRIL 2020 – The CAG Brunswick small goods products is now sold in UNITED service stations all over Australia.
We are working on a Protein Meat Pack
Each pack contains
6 rum jungle burgers (1kg)
2x500gr Beef Mince
2x500gr Sausage
2x500gr Dice Beef
2x500gr Steak (250gram)
5kg total box size
We want to place this in every Service Station in the Country.
---
---
9 April 2020 – Our rum jungle batchelor abattoir today starts to pack rum jungle meat in its own boxes for distribution into local and export market.
---
---
5 April 2020 – Flavorista products now available in :
Aeon Co
Aeon Mx Valu
Aeon Big
Hero Market
Oliver Grocer
Malakat Mall
InshaAllah we will strive and work hard + smart to penetrate new market place!
---
---
3 April 2020 – Our Brunswick small goods factory today starts producing and packaging Porterhouse Steak for all convenience store for BP n Shell petrol station shops in Australia. This product is for the convenient of their customers to buy and cook it at home without hassle. Just pick it up and bring home to cook concept which this petrol station are introducing to their customers.
---
---

3 April 2020 – Today we slaughter cattle as for Rum Jungle Meat Brand, we are introducing this products first into the Australian market than we will introduce it for export market, grass fed and no hormones.
---
---
2 April 2020 – Nusantara Meat producing beef burgers for the local market and also cutting prime cuts as per customer request. Our butcher shop is open to serve our customers.
141, Jalan 28/10a, Taman Perindustrian Iks, 68100 Batu Caves, Selangor. Tel : 03-6178 4877
---
---
2 April 2020 – Slaughtering cattle in the Rum Jungle Abattoir and packaging the meats into boxes for local and export market.
---
---
2 April 2020 – Cattle at our Batchelor Rum Jungle abattoir Darwin NT waiting for slaughtering for the local Australian market.
---
---
31 March 2020 – Our montage for Australia Product.
---
---
27 MARCH 2020 – Our Bachelor abattoir is busy slaughtering buffaloes for the local market and preparing for export to America,the Solomon Island and Papua.
---
---
27 MARCH 2020 – Our small goods factory in Brunswick Melbourne is operating from 3am in the morning till 5pm daily to full fill local supermarket orders and for export. Our Gippsland Angus Brand pure beef burgers have a huge orders from Hong Kong.  We are also producing Minch Meats and Rum Jungle burgers for the Queensland supermarkets.
---
---

20 March 2020 – Kedai daging kami Nusantara Meats Berhad di buka untuk pelanggan. Ini bagi memudahkan pelanggan membeli daging waktu kita sedang hadapi wabak Covid19. Berhubung dengan kami untuk mendapatkan keperluan anda Serta kami juga membuat home delivery(penghantaran ke rumah).
---
---
20 March 2020 – Our Brunswick small goods factory are producing minced meat for the Australian local market. More than 10MT a day are produced for the local super markets to ensure no shortage of meat during this period of Covid19.
---
---
19 March 2020 –  We slaughtered cattle and buffaloes in Rum Jungle abattoir Northern Territory and we also delivered a container of boxed meats to CAG Melbourne for the local market.
---
---
---
17 March 2020 – Pelakon Fizo Omar dan Azar Azmi menikmati masakan minang di Restoran Natrabu Bangsar Shopping Complex malam ini. Fizo bersama krew produksi menikmati juadah masakan yang terdapat di Natrabu@BSC.
---
17 March 2020 – Our Northern Territory Rum Jungle abattoir Darwin started slaughtering buffaloes. We have orders for the American market, we hope to also supply to Indonesia and Malaysia soon.
---
16 March 2020 – Kesemua produk keluaran flavorista di pamerkan di pasaraya-pasaraya tempatan dan mula di pasarkan kepada pembeli dan pelanggan.
---
11 March 2020 – Our catering facilities in Makkah.
---
8 March 2020 – Our Managing Director son's wedding yesterday.we wish all the best for the newly wedding couple. May 'Allah  SWT'  bless his family always.
---
8 March 2020 –  Kilang pembungkusan dan dapur masakan di Makkah oleh Tadmansori telah pun siap untuk beroperasi mengikut peraturan dan piawaan kerajaan Arab Saudi.
The Indonesian pilgrimaged council of Indonesia will visit and inspect the facilities and place orders for their pilgrims both for haj and umrah.the visit will be done this coming week.we will also invite Pihak
Tabung Haji Malaysia to look at our facilities.
We have confirmed orders from the Middle eastern countries to supply for their people needs during both Umrah n Haj.
---
8 March 2020 – Another brand which will be produced in our Brunswick factory for supermarkets in Australia and export market to America.this is a premium patty made using wagyu beef and all natural.
---
---
26 FEBRUARY 2020 – This is Somaliland Frozen Goat container.
---
26 FEBRUARY 2020 – The Burau abattoir in Somaliland started killing and export sheep n goats.they also slaughtered camels for the local market.
---

19 FEBRUARY 2020 – NATRABU@Bangsa Shopping Complex BSC will open tomorrow after a short break from the earlier place which it operates from to give clients a more convenient place to dine and ample parking.
Come and experience a new ambience and fine Sumatran PADANG MINANGKABAU food.you will not regret it.
Another New Steak house experience from the paddock to the table concept at Bangsa Shopping Complex FLAVORISTA Resto@BSC will also be open tomorrow.
Come and enjoy our concept of from the paddock to the table experience where all meats comes from our Australian Farm.
---
19 FEBRUARY 2020 – Our three 888 Australian Premium Meats produce by CAG Victoria Valley Abattoir.
---
10 FEBRUARY 2020 – Rum Jungle
---
4 FEBRUARY 2020 – Our Abattoir in Somaliland doing trials in slaughtering goats at the facility.
---
31 JANUARY 2020 – Food tasting session to the director of Korean fast food restaurant in Malaysia. They have 16 fast food outlets here looking for combination of Malaysian + fushion style food.
---
30 JANUARY 2020 – Congratulations Batchelor Team in your second sales of 20 pallets shipped to central for the local Australian market. It was also good to hear that your target in killing 100 heads a day today your team touch 104 heads. We look forward to your shipment of the second order for Solomon Island they are buying 2 more containers from Batchelor.
---
28 January 2020 -Our first container of box meat is out from our Batchelor Abattoir today. A date to remember after years of hard work to get this place up.
Congratulations to our team at Batchelor Rum Jungle Northern Territory for your hard work and to achieve this.
First Container out from Batchelor to Solomon Island. 95cl Beef trimmings.
---
27 JANUARY 2020 – Today,  Mr Hakan Koyu our director of sales is in Thailand meeting potential clients for or meat and small goods products, he had a discussion with Big C and Mc Donalds Thailand.
---
23 JANUARY 2020 – Our small goods factory in Brunswick Melbourne are producing and marketing this two Brand of burgers to Australia and the world. We are looking for distributors out side of Australia. In Australia we are selling to supermarkets chain.
---
22 January 2020 – Flavorista will do OEM (coffee) for Amy Search soon.
---
10 JANUARY 2020 – Business meeting with Park Chang Dong and Meenah Park regarding business of Tadmansori n KDS. Park will meet with group MD Dato Tengku Rethwan on Monday to discuss further on all issues.
---
9 JANUARY 2020 – Had lunch with my friend Park Chong Dong from Korea. We know each other for the last 25 years. We celebrated his 59 years of age may god bless him always.
---
7 JANUARY 2020 -Dato Dr Tengku Rethwan, Managing Director Tadmansori and Dato Hasbi, Group Ceo just  finished meeting with the chairman of Arab Authority in Dubai office.
---
6 JANUARY 2020 – Our Dato Dr Tengku Rethwan, Managing Director Tadmansori and Dato Hasbi, Group Ceo meeting clients in Middle East, Abu Dhabi with LULU International Group at their HQ.
Lulu will be our first Oman customer, they are keen on our meat from somaliland & Australia.
Lulu has an annual turnover of USD8B employing 56,000 workers in 22 countries.
They can also supply Indian beef as they have 5 slaughter house in India accredited by JAKIM.
---
29 Disember 2019 – Datuk Seri Dr Irmohizam Ibrahim selaku Pengarah Dancom hadir ke Program Titipan Kasih Desa Tercinta "Back to School" di Kampung Api-Api Kuala Selangor serta penyerahan bantuan kepada warga miskin B40 yang terpilih.
Para penerima dari golongan kurang berkemampuan gembira dan berterima kaaih menerima sumbangan yang di sampaikan oleh Datuk Seri Dr Irmohizam.
Rata-rata Rakyat sekarang jelas terhimpit dan dibebani dengan kos sara hidup yang semakin meningkat di samping dengan tiada insentif dan bantuan sara hidup dari kerajaan PH menjadi punca keadaan yang semakin menghimpit penghidupan rakyat terutamanya di luar bandar. Ada di kalangan mereka telah hilang punca pendapatan disebabkan pembuangan kerja oleh majikan serta harga sawit yang tidak menentu.
Datuk Seri Dr Irmohizam Ibrahim juga mengambil ruang untuk memberikan motivasi kepada pelajar-pelajar untuk cemerlang dalam bidang pendidikan.
---
26 Disember – Visited Tadmansori main kitchen for catering services business in Makkah.We followed the Saudi authorities with their standards and requirements to operate.Will be in operations in 2 months time.Was given a briefing by the manager and the partner.
---
26 Disember 2019 – Visiting CAG small goods facilities in Brunswick Melbourne Australia.
---
26 Disember 2019 – Inspecting the refurbished Bachelor Abattoir at Rum Jungle Northern Territory Australia the abattoir started slaughtering cattle and soon buffalo and camel.
---
26 Disember 2019 – New product from CAG Brunswick factory for the market for year 2020.
---
26 Disember 2019 – Audit product by PICC as they are interested to get flavorista product.with China's agent to purchased flavorista and meeting some local agents to promote flavorista products in year 2020.
---
7 Disember 2019 – First week production of meat at CAG Rum Jungle abattoir Northern Territory Australia.
---
---
King Island beef farmers hope new $50m abattoir will secure future of industry
Island Abattoir: A new project could revitalise King Island's beef industry
Landline
https://mobile.abc.net.au/news/2019-11-15/king-island-cattle-farmers-pin-hopes-on-abattoir/11700712?pfmredir=sm
---
---
Instagram-driven meat sales in Indonesia may harm Australia's live export industry
Indonesia's shift to buying meat online, including via Instagram, could significantly disrupt Australia's live cattle trade trade, according to industry insiders.
Traditionally, Indonesians prefer to buy freshly-slaughtered meat from the 'wet market'.
However, a growing number of 'mumpreneurs' are bypassing traditional supply chains for meat by selling beef via Instagram directly to those willing to buy.
Indonesian cattle trader Jimmy Halim said people were selling meat — which could be beef or cheaper buffalo meat — from unknown sources on the photo-sharing social media site.
"Someone has a freezer or a chiller and they will post [a photo of] it on Instagram," he explained.
"They will say they have this beef at a certain price point and customers will contact them via Instagram or WhatsApp, and they will fulfil the order that way."
Convenience of online purchases
Mr Halim, who owns feedlots and abattoirs in Indonesia, has a joint venture partner in the Northern Territory.
He said the rise of Instagram sales was concerning because online customers did not know where their meat had come from.
"Consumers are willing to try Instagram and they will do transactions by Instagram because the account holders can fulfil the demand at the right price point, and it is relatively quick to fulfil their order."
Meat and Livestock Australia Indonesian representative Valeska, who goes by a single name, said customers were also going online to avoid the crowded Jakarta streets.
"In Indonesia, where traffic can be very bad at times, it's that convenience factor that gets people to try something online," she said.
"I've seen beef been distributed on the back of motorbikes, that's how things are changing."
Valeska said it was the thousands of delivery drivers on scooters employed by the likes of Indonesian company Gojek, a $10-billion start-up or 'decacorn' business, that made cheap delivery possible.
Focus on meat price since trade ban
It is not just the way people are buying beef in Indonesia that is changing.
The live export market has transformed significantly since the Australian Government's trade ban in 2011.
At the height of the trade in 2009, 80 per cent of all Australian live export cattle made their way to Indonesia.
Now only half the trade ends up there. Last year, Australia's live cattle trade to Indonesia was worth $630 million.
Elders Indonesia director Jason Hatchett said Australian farmers were the main suppliers of beef to Indonesia in 2009, but the industry had never recovered since the trade ban.
"When I first came up here there weren't really any issues," he said.
"So it's only really been in the last seven or eight years that there has been a focus on price.
"Since the ban it's been one thing after another."
Ritz Carlton Jakarta executive chef Sean Macdougall said that at the time the trade ban opened-up a black market in beef.
"Sometimes we had suppliers call us and say 'look, I'll have one tonne of meat next week. It's brand X. Do you want to take it?" he said.
"[Then they'd say] I'll give you 10 minutes, call me back.
Trader considering Amazon-like platform for selling meat
Skip forward eight years and Australian beef no longer dominates the market.
The Indonesian Government has opened-up trade to Indian buffalo and is currently considering live trade with Brazil.
Mr Halim said traders in Australian beef needed to be mindful of protecting their brand in the changing market.
He said he was looking at creating an Amazon-like platform to sell meat and control the branding of Aussie beef.
Valeska thinks the move to online could be an opportunity for Australian suppliers.
But Mr Halim warned that if the Australian cattle industry did not embrace digital platforms, it was in danger of killing the trade in live export.
"We will continue to drop off the cliff," he said.
"And then the feedlot business, the abattoir business, will be out of business, and Indonesia will go back to just trading beef."
https://www.abc.net.au/news/rural/2019-08-20/instagram-driven-meat-sales-in-indonesia-threat-to-live-exports/11405498
---
4 Disember 2019 – After meeting in Tokyo the President of this Japanese MNC company has come to Kuala Lumpur to visit Flavorista.today we had dinner in front of flavourista resto and tomorrow they will visit our factory.
---
4 Disember 2019 – Our next respondents for retail product project,respond was good and they like the product.
---
29 November 2019 – Wrapping for Rum Jungle, Gippsland Pure and Milk Fed Beef.
---
25 November 2019 -Haji Rosli, Our master butcher is now doing deboning  at Nusantara meat facility Mukim Batu.
---
22 November 2019 – Unloading the first chilled carcass shipment from Australia in Nusantara Meats factory at mukim Batu.
---
22 November 2019 – Flavorista one of the companies get involved in Food Service Education Forum In UITM.
---
21 November 2019 – We are doing tasting of Nusantara Meat patties at the Nusantara factory in mukim batu.many range of products are made and tasted.we hope to do a commercial production in 2 weeks time.we will introduce it in the market.
---

21 NOVEMBER 2019 – Congratulation…. Only four hotels in Langkawi got this and we are one of them.
---
$280m commitment in new Brisbane further-processing meat facility for Woolworths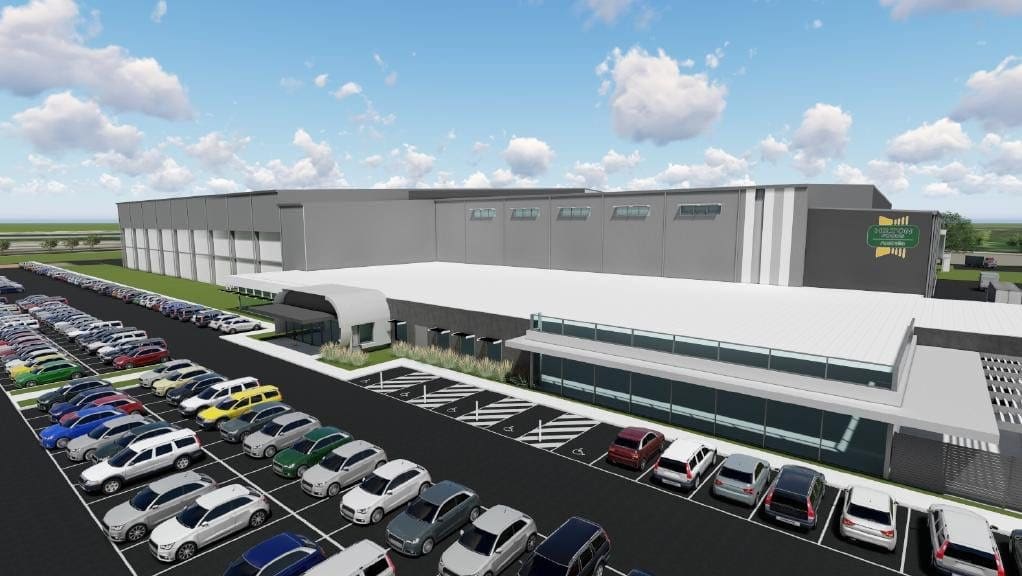 Artist's impression of the new Hilton/Woolworths retail-ready facility opened yesterday south of Brisbane
A NEW $280 million meat further-processing and distribution facility in south-east Queensland was officially opened yesterday, servicing the growing needs of Woolworths supermarkets across eastern Australia.
Total store numbers for Woolworths across Australia recently went past 1000, as the company's demand for convenient retail-ready and value-added meat products – both within Australia and for export overseas – continues to grow.
Hilton Foods Australia's Heathwood processing facility south of Brisbane has created more than 650 new jobs, with more on the cards when it ramps up to full production next year.
Heathwood will deliver more than 1500 tonnes of fresh red meat to more than 450 Woolworths stores in NSW and Queensland each week. The facility is the third opened in Australia in the past eight years to exclusively service Woolworths' needs, joining similar facilities in Melbourne and Perth.
It will produce a wide array of  retail ready packed meat products, both portion-cut steak cuts, mince, diced meats and sausages, and corned meats, together with value-added lines like marinated meats, pre-cooked heat-and-serve and other red meat items.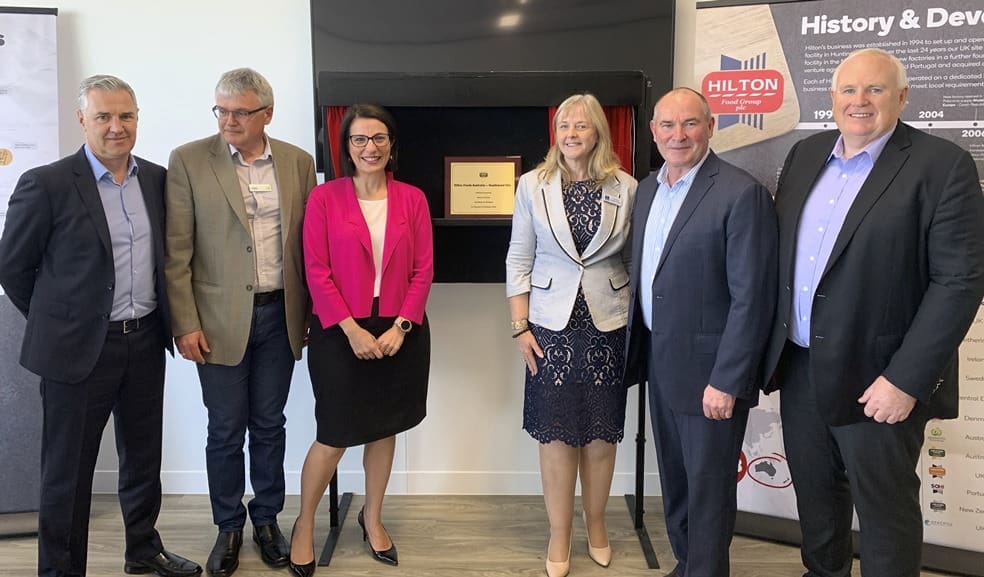 Pictured at yesterday's Hilton Heathwood plant opening were from left, Phil Heffer (Hilton Foods Aust), Ziggy Kwarcinski (Woolworths Group), Charis Mullen (State Member for Jordan), Angela Owen (BCC), Pat McEntee (Hilton Foods) and Robert Watson (Hilton Foods Chairman)
"This is one of the most innovative facilities of its kind in the world and a real showpiece of advanced food manufacturing in Queensland," minister for state development and manufacturing,  Cameron Dick said during yesterday's opening.
"Workers will operate robotics and man 23 state-of-the-art production lines to provide packaged meat and vegan products to Woolworths supermarkets locally and interstate," Mr Dick said.
"Brisbane's central location, excellent transport network and Queensland's highly trained workforce were all factors in HFA's decision to bring their operations to Heathwood.
Renewable energy installation
The Heathwood facility will boast the second largest rooftop photo-voltaic solar installation in Australia, consisting of 6000 solar panels, the opening gathering was told.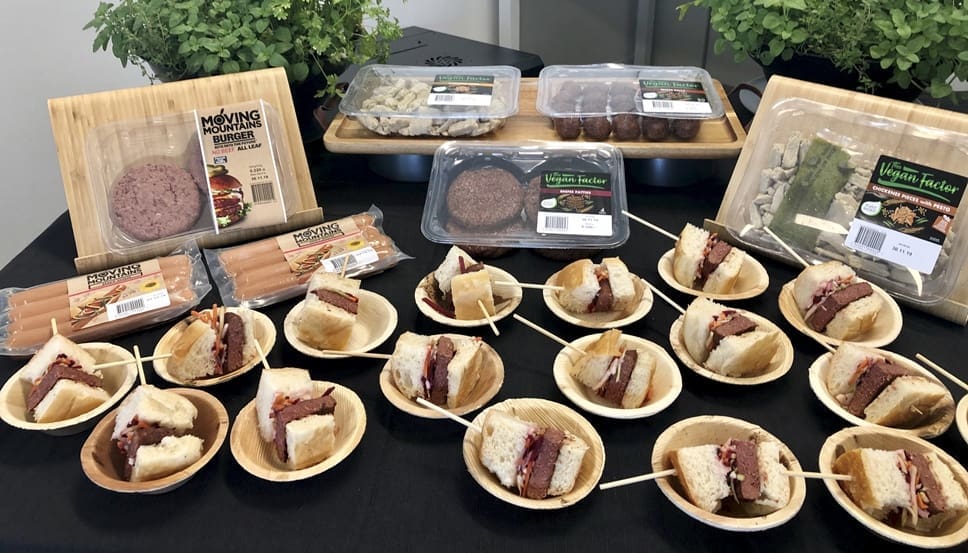 The new Heathwood facility will also produce alternate protein products like these Moving Mountains vegan beef burgers and Vegan Factor chicken items
Hilton Foods Australia's solar installation at the facility will generate 2800MWh per annum, providing about 50 percent of the site's total energy requirements.
Heat will also be harnessed from the facility's refrigeration compressors, with an automated heat recovery system that will see 100,000L of water heated per day, saving 170MWh of energy a year.
Hilton Foods Australia chief executive officer Pat McEntee said the opening was a big milestone for the company.
"We are proud to be joining the local community in Heathwood and contributing to economic growth with new employment opportunities and service contracts," he said.
"We value our partnership with Woolworths and look forward to assisting in developing a faster and fresher supply of high-quality meat and value-added products."
Woolworths director of fresh food Paul Harker said Hilton Foods Australia was a valued supply partner to Woolworths, processing high-quality fresh meat for customers across Australia.
"It's pleasing to see our long-term supply relationship with Hilton Foods Australia underpin this important new investment and job creation in Queensland," Mr Harker said.
"We're fortunate to source our fresh meat from the best Australian producers, and it's important we uphold the quality of their product from paddock to plate.
"The opening of this state-of-the-art facility in Heathwood will help us deliver a consistently great fresh meat offer. It will also improve stock availability for our Queensland customers each and every day," he said.
Local member for Jordan, Charis Mullen, said the benefits of such a large local workforce would be felt across the region.
"The majority of workers here live locally, so they will shop local and support great local businesses along the supply chain," Ms Mullen said. "This is another great manufacturing facility in Queensland that will help strengthen the sector and shore up our state's economic future."
Beef Central has been invited by Hilton Foods chief executive Pat McEntee to visit and inspect the new Heathwood facility. Stand by for a report in coming weeks.
$280m commitment in new Brisbane further-processing meat facility for Woolworths
---
Flavorista one of the companies exhibit and get involved in Salon International de l'alimentation (SIAL) Jakarta. This event was first held in 1964 in Paris.
As the winner of Halal Chefpreneur challenge in conjuction with Halfest, Flavorista was selected by HDC and TERAJU to promote our products to international food fair.
---
13 November 2019 – Syarikat tadmansori di UAE untuk memasarkan produk dari Somaliland dan Australia. Halal meats product daging sejuk beku daging kambing daging process seperti daging burger daging sausages,steak cuts dan bermacam macam lagi.
---
12 NOVEMBER 2019 – Central Agri Group receive Certificate of approval & BRC Global Standard for Food Safety.
---
9 November  2019 – CELEBRATING 25 YEARS OF FRIENDSHIP BETWEEN DATUK SERI TENGKU ADNAN TENGKU MANSOR WITH MR PARK CHAN DONG FROM SOUTH KOREA.
MR PARK AT SOUTH KOREA RECEIVE A SOURVENIR FROM DATUK SERI TENGKU ADNAN AND HAPPY WITH PARTNERSHIP BUSINESS BETWEEN TWO COUNTRY FOR 25 YEARS.
---
7  November 2019 – En. Norhisham masih bertemu dengan pengusaha-pengusaha di Jepun dalam memberi penerangan produk-produk keluaran Flavorista kepada bakal-bakal pembeli.
---
5  November 2019 – Pertemuan yg di atur kan oleh MATRADE, MITI di Tokyo Jepun. Pengarah Urusan Flavorista, En. Norhisham bertemu dengan syarikat jepun yang berminat terhadap produk keluaran flavorista dan produk halal.  Mereka berminat kerana bahan yang digunakan bermutu dan halal.
---
---
3 NOVEMBER 2019 – FLAVORISTA antara 21 syarikat yang bakal menyertai pameran di Jepun. Pengarah Urusan Flavorista En. NorHisham mewakili ke Jepun dan program berkenaan anjuran bersama Malaysia(Matrade) dengan pihak Jepun.
http://www.bernama.com/en/news.php?id=1785251
---
30 October 2019 – Hari ni Flavorista bersama R&D QSRT (KFC) menguji perasa keluaran Flavorista untuk digunapakai oleh QSRT. 90% R&D telah dijalankan bersama KFC.
---

25 October 2019 – Nadias Hotel Langkawi sekali lagi mendapat pengiktirafan sebagai best 3 star hotel sea view oleh Kementerian Pelancongan Malaysia.
---
25 October 2019 – Tengku Rethwan,Dato Hasbi and Dato Aziz di Dubai bertemu dengan pembeli kambing yg sudah di sembelih di Somaliland.mereka juga akan menawarkan frozen beef box keluaran Tayyib Meat Somaliland.
---

25 October 2019 – Datuk Seri Tengku Adnan Tengku Mansor mengadakan sesi perbincangan bersama wakil Flavorista iaitu Norhisham Baharin, Pengarah Urusan Flavorista serta wakil Mr Briyani iaitu Mr Javiaat. Sesi hari ini juga termasuk merasa makanan dan menu terbaru dari Mr Briyani Restaurant.
---
24 Oct 2019 – At Abu Dhabi Free Trade Zone Office for the establishment of TAD Food Trading Ltd in UAE for our marketing, banking & payment base.
---

24 Oct 2019 – Natrabu Restaurant new outlet at Bangsar Shopping Complex will be opening next month. A site Visit from our MD to see a progress.
Progress :
– Pemilihan pekerja
– Done food tasting
– Visit kerja kerja renovation
---
10 October 2019 – Talking to Dato Lokman Profdean GISB Holdings for Flavorista to pack wheat flour from Turkey. This wheat flour is unbleach. He inspected Flavorista packaging facilities and capabilities.
---
10 October 2019 – Our group managing director looking at flavorista bento set with flavorista seasonings to be market into Aeon outlets and looking for possibilities to market in other outlets and for our online delivery services.
---
8 Okt 2019 – Tad Marine Resort Pasir Panjang Pulau Tinggi Mersing Johor telah diiktiraf mempunyai tandas awam yang bersih oleh Majlis Daerah Mersing. Tahniah kepada pengurusan Tad Marine.
---
5 October 2019 – Latest logo for Nusantara Meat Berhad at Batu Caves factory and CAG Range at Batchelor NT.
---
24 SEPT 2019 – Nusantara Meat fitting of new machine for small goods production. Will be commissioned by contractors in one weeks time for trial production.
---
14 SEPT 2019 – Dato Dr Tengku Rethwan discuss with Mr Park Chan Dong regarding Tadmansori KDS future business and the way to move forward.
---
12 Sept 2019 – Mesyuarat bersama rakan strategik dari Korea Selatan, Mr Park Chan Dong untuk kerjasama perniagaan terbaru pada masa hadapan.
__________________________________________________________________________________
7 SEPT 2019 – Dyson New Outlet has opened at Sunway Pyramid, Petaling Jaya.
__________________________________________________________________________________
7 SEPT 2019 – Our Brunswick small goods factory producing burger patties for SULTAN brand Kuwait.
__________________________________________________________________________________
6 Sept 2019 – Dato Sheikh Abdul Halim Alkathiri bersama Isteri Fathma melawat dan berbincang bekenaan produk FLAVORISTA untuk di guna pakai di dapur catering Makkah. Mereka juga berbincang tentang memasarkan produk ini di timur tengah.
6 SEPT  2019 – A VIDEO PROMO ABOUT TAD RESORT, PULAU TINGGI JOHOR.
_______________________________________________________________________________
5 SEPT 2019 – Flavorista New Packaging.
__________________________________________________________________________________
4 Sept 2019 – Nusantara Meat will be in Market Next Month.
________________________________
31 August 2019 – Equipments ordered from Australia arrived for Nusantara Meats cold room facilities and small goods manufacturing. We will be in operations by November this year for Halal Meat,Quality Meat and Consumable Meat for the Malaysian market.
__________________________________________________________________________________
30 August 2019 – Progress report regarding catering central kitchen Saudi Arabia which is work in progress and will be in operation by the end of the year.
__________________________________________________________________________________
29 August 2019 – Flavorista appointed to supply this kind of Ready to Cook (RTC) set to all  Aeon Hypermarket outlets in Malaysia.
What is include in RTC bento set.
Meat/Poultry + Vege + Flavorista Premix
__________________________________________________________________________________
28 AUGUST 2019 – Today, with presence & lead by our Executive Chairman Dato. Tengku Rethwan and management team, we received the Highest Cabinet Ministers & Govt. Delegates of Somaliland to our TMP facility.
Cabinet delegation was lead by:
H.E Dr. Saad Ali Shire, Minister of Finance
H.E Mr. Hassan,Minister of Livestock & Fisheries
H.E Mohammed ( Saachin ) -Minister of trade & Tourism
H.E Mr. Baghdadi- Governer of Central Bank
H.E Mr. ABDILLAHI, The Minister of Transport & Planning
H.E Mr. Mohammed – Governer of Burao'
H.E. The Dep. Gen of Ministry of Livestock And Government, ministries officials
The entire govt. of Somaliland assured the full & 100% support to our project and will do all best to ensure our success
The Investments & Facilities were briefly & successfully walked through, congratulations to the entire team, we are reasonably geared to start business soon.
The visit was covered by the Media Electronic & print media.
__________________________________________________________________________________
20 August 2019 – License approval from the Australian authorities for our Rum Jungle Abattoir.
__________________________________________________________________________________
19 AUGUST 2019 – A new product from our Brunswick Small Goods plant Rum Jungle Free Range Beef Burger. Free Range means the cattle is grass fed and no anti biotic used. Its all natural and healthy. Halal,Consumerble and Healthy. Halal meat for the world.
"WHEN IT COMES TO RUM JUNGLE BEEF BURGERS, WE LIKE TO KEEP IT SIMPLE"
HGP FREE•ANTIBIOTIC FREE•ETHICAL•NUTRITIOUS
OUR BURGERS ARE PRODUCED USING THE FINEST AUSTRALIAN BEEF FROM 100% FREE RANGE CATTLE.
CATTLE ARE REARED AND RAISED ON STUNNING LANDSCAPES OF THE NORTHERN TERRITORY IN A NATURAL GRASSLANDS ENVIRONMENT,
ALLOWING US TO PRODUCE HEALTHY, TASTY, FREE-RANGE BEEF BURGERS FILLED WITH FLAVOUR.
________________________________
13 AUGUST 2019 – Victoria Valley CAG Australia Abattior did korban for IHH INSANI turkey where the meat will be canned and distributed to Palestine and Syria.
________________________________
13 AUGUST 2019 – Our abattoir in Somaliland was entrusted to do the korban and the meat was distributed by local leaders.meat was distributed to more than 8000 people.
---
6 AUGUST 2019 – Today Tadmansori Australia made another history after 18 years of mothballed Rum Jungle Abbattior Bachelor in Northern Territories and after nearly 18 months of refurbishing it starts trial killing of cattle n buffalos with all the Australian Authorities including Halal Certify watching at the process, the new refurbished abattoir is running well with the trial today.
We are hoping to start exporting box meat both cattle n buffaloes by October 2019 once we get the approval from all relevant authorities.
_______________________________
26 Julai 2019 – Our Brunswick, Melbourne small goods factory running automatic flow wrapper line for our burgers, its working perfect.
22 Julai 2019 – New Look and Menu Natrabu @ Bangsar Shopping Complex
19 JULAI 2019 – Dancom Group Profil
SAUDI ARABIA – 16 Julai 2019 – Usaha sama dalam penyediaan katering makanan untuk di bekalkan kepada jemaah Haji dan Umrah yang di bangunkan antara kota MINA dan Makkah hampir siap.
Kerjasama di antara Tadmansori dan peniaga Saudi Arabia ini telah berjalan hampir 3 tahun dengan pelaburan lebih dari 10juta Riyal.
Kelengkapan ini dijangka beroperasi pada bulan November tahun ini.
27 JUN 2019 – Pasangan selebriti Eira Syazira dan Azad dijemput oleh pihak Flavorista untuk melawat dan mencuba barangan keluaran Flavorista yang memudahkan lagi cara untuk menyediakan hidangan masakan kegemaran.
Eira dan suami tidak melepaskan peluang memasak dengan menggunakan produk Flavorista.
Hadir sama, Pengarah Urusan Flavorista Norhisham, Pengarah Syarikat, Tengku Daud Shah dan Ziah Zakaria
Flavorista telah dijemput menyertai Saudi Horeca 2019 di Riyadh, Saudi Arabia pada 26 hingga 28 November 2019
21 JUN 2019 – Visitor from Saudi Arabia, Mr Abdullah visit Flavorista factory and food testing. They are interested to market the product in Saudi Arabia.
21 JUN 2019 – NEW DAYSON OUTLET IN QUEENS BAY PENANG, NOW OPEN FOR CUSTOMER.
21 JUN 2019 –  FLAVORISTA MEMPERKENALKAN 6 MENU BAHARU UNTUK PENGGUNA
19 JUN 2019 – OPEN HOUSE'S TADMANSORI HOLDINGS AND SPECIAL GUEST OUR FOUNDER, TENGKU ADNAN TENGKU MANSOR
29 APRIL 2019 – TENGKU DAUD TENGKU ADNAN GIVING A SPEECH AT NADIA'S HOTEL ANNUAL DINNER @ CHENANG LANGKAWI KEDAH.
To Top